Circuit Board Design & Layout
Our engineering CAD services insure that your design will have professional performance and appearance.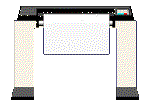 We can act as your "on call" engineering department, supplying advice, schematics, source code and prototypes, or as a one-stop shop to buy your proprietary products assembled, tested and ready to ship.
Independent Digital Consulting, Inc. offers all of the CAD services needed in the design and production of embedded systems, including printed circuit board layouts, schematics, system wiring drawings, bills of material, and assembly drawings.
Quality of the design is assured by a netlist check of the layout against the schematic to verify proper routing. Automatic design rule checks are always performed to verify safe clearances around pads and tracks. Gerber files of the layout are then made and viewed by the PC board house prior to production. After the quality is assured, the final layout files are sent via modem to the PC board house for production.
Circuit boards can be single, double, or multi-layered. The included bill of materials lists all of the components used on the board. It is organized by designator, quantity, description, and detailed vendor part number.